The Foundation is delighted to announce that Samantha Windram has joined the Community Football team as a Football Development Officer, as we continue to expand our outreach.
Samantha begins her role within the Foundation on Monday 28 August alongside Ciaran Brian, as the two look to further develop our Football for All provision across the community.
Samantha has volunteered as a coach for the Foundation for almost 3 years and now takes on her new role on a full-time basis.
Her growth within the Foundation has been clear to see and she has recently spent the summer months in the United States after completing her degree in Sports Coaching and Development.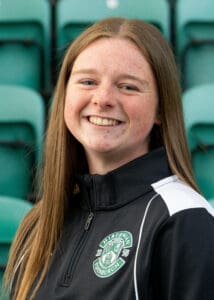 Head of Football, Paul Greig, commented:
"It is fantastic to have Samantha join us as we look to grow our current provision and we are pleased to have offered the role to such a talented and hard-working individual.
"Over the next 12 months, we aim to enhance our Community Football offerings by creating more free and affordable opportunities for our communities to connect with the Hibernian brand."
Samantha and Ciaran can both be contacted on the following email addresses:
Samantha Windram – [email protected]
Ciaran Brian – [email protected]