The Foundation is thrilled to announce that we will be merging with Team United on Friday 1 September as both charities look to expand the outreach of Para Football.
Team United is one of Scotland's leading charities, utilising the power of football to break down social barriers and to provide a learning platform for Neurodiversity to flourish.
The charity delivers programmes that are designed to help children, aged 10 to 16, with Autism and other Neurodivergent conditions to break down social barriers that often prevent them from participating in football.
Team United promotes an environment where young people with Autism can play football and be part of a team, whilst adapting to the intense social and communicative demands they are likely to experience.
Founder of Team United, Ann Brown, is one of the country's foremost experts in Para Football and currently the Strategic Lead for Para Football with the SFA. Ann will also become Head of Para Football for the Foundation.
As well as growing the existing Team United programmes, Ann's appointment will allow the Foundation to develop a range of new Para Football programmes. These will be developed following an assessment of the needs within the community.
We expect this merger to create opportunities for twice the number of young people with Autism and other Neurodivergent conditions to regularly play football across Scotland. They will be part of one of Scotland's largest community football programmes, with 700 children playing weekly under a 70 strong coaching staff.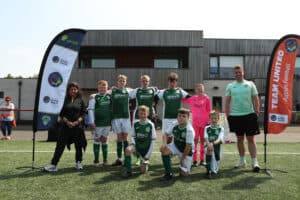 Chair of the Foundation, Mags McPherson, commented:
"The Foundation is incredibly excited to be joining forces with Team United. This will allow even more children and adults to play Para Football.
"Team United, under Ann's leadership, has built an incredible reputation and following and we look forward to helping it grow.
"The merger is a positive step for both charities and more importantly for those who participate in our programmes."
Ann Brown, strategic lead for Para Football, added:
"Team United is delighted to have been given this opportunity which will help us to increase our capacity and develop more programmes and sessions across Scotland."