Our Community Choir returned last week and we were delighted to see so many participants!
Our choir, lead by Heather Macleod, has grown incredibly over the summer months and we are excited for the next block of sessions.
At the end of the last block, our choir had the opportunity to sing outside Easter Road Stadium ahead of Hibs' friendly against FC Groningen!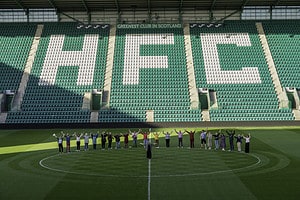 Below you can find some first-hand information through one of our singers on why our choir is such a great group:
What led me to join the choir?
I've been on the look out for a choir for ages and tried many over the years. Singing gives me so much joy and I wanted to do more of something that makes me feel uplifted. When I heard about the Hibernian Community Foundation being linked with a choir it was a no brainer! I've been a Hibs season ticket holder for over 30 years and I'm a supporter of the community wing. To combine my two loves of singing and the Hibees is a treat!
Where did I hear about it?
I saw it advertised on the big screens at one of the Hibs home games!
Why do I enjoy it?
It is absolutely good for the soul to sing! Heather is great fun and brilliant at teasing out the best in us. There's a great variety of songs and you don't need to read music. The choir members are welcoming too. It's a relaxed and happy choir. Plus it's based in my second home, Easter Road Stadium, the home of the mighty Hibees!